I have been back and forth on what to write today. I wanted to get a post out yesterday, but I some things come up early in the day that made my mind go just a bit wacky. My stomach knotted up. I started to get a bit of anxiety. I was feeling hurt. Really hurt and angry.
But today is a new day, and I am not going to focus on what all went wrong yesterday. I have come too far in my spiritual walk with my Heavenly Father to lose it all in one day. I have faith that things will change. I know that God is in everything that I do. I don't move without His guidance, His leading the way. I had to write a very hard message yesterday, but it was full of truth and love (and I hope that he sees in that way). I will not walk in anger and hate. I will continue to walk out my life in love, mercy and grace. Burnt bridges can be built again. New and stronger, but it takes time. I still see a glimmer of hope for a change. To some, that may sound ridiculous, but if I lose all hope in this situation, then I have lost my faith that God can make this situation turn around. I know that He can, and I know that He will.
So anyway...Endurance. That is what I have been reading about the last couple of days. I have been in a series by
Graham Cooke
called The Way of the Warrior Series. God has been messing me up in this time. He has been giving new revelations on just who He is to me and what He wants to do with my life. One day, I had stepped into a realm that just messed me over. I had felt God's presence in my whole body, spiritually and physically. I felt a Hoy Ghost fire, I had to shed clothes! I couldn't stop moving and felt like I just needed to clean. I have been cleaning my inside house (my bodily spirit man), which made me have a desire to clean my actual house! LOL. It was a great day in the Lord. I spent almost 2 hours on the phone with my mother in law praying and seeking God's perfect will for us and our family. Entering the throne room of our Father.
Prayer is having a conversation with God. It doesn't have to be something that you only do in church. You don't have to have a proper language/grammar. You don't have to be clean, and you don't have to be dirty. Come as you are. That is what ever church's motto should be. You should feel free to come to Christ anytime. He is never too busy for you, His child, His son, His daughter. He will never turn you away b/c He has more important things to do. You are His important thing. I remember as a child, going to my father, and it would be during the news (this was at the time that DVR didn't exist and there was no rewind or pause button on the tv) or his favorite tv show to talk or ask a questions, and he would make me wait. Eventually, I quit waiting and went to talk to my mother. As a child, I guess I just embraced that other things were more important, and unfortunately, as a mother, I have caught myself doing that to my own children. Now, yes, we are all human and we have jobs to do. Yes, sometimes our children have to wait for mom or dad to answer their question, or get up and get a snack, but it should never get to the point that they quit coming. I should never make my children wait for me so much that they think other things are more important to me than they are. That is an issue that I will work on as parent. They need my attention now or later, they won't want it.
God is not like that. He always answers. He is always at the door waiting. I love the picture of Jesus knocking and waiting at the door.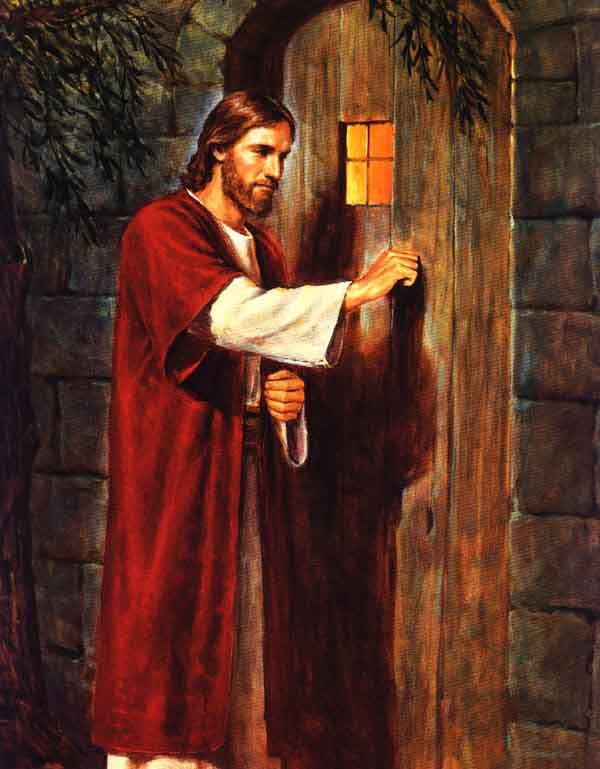 If you have ever noticed, there is no door knob on the outside of the door. He will not force His way in. It has to be our choice. We have to open that door. Let me tell you, when you open that door, you had better be ready for a flood of blessings to come your way. He will take you on a journey like never before. He will give you a freedom, a peace, a calm that you never even knew existed.
1 John 5:14-15
Now this is the confidence that we have in Him, that is we ask anything according to His will, He hears us. And if you know that He hears us, whatever we ask, we know that we have the petitions that we have asked Him.
This word should be enough for us to want to endure, to go on, to seek after His presence, His will for our lives. Sometimes in life, doors shut. I have come to find that if a door shuts, it's for a good reason. I may not understand it at the time, but there is a good reason (
Romans 8:28
) The wonderful thing about a shut door is that another one will open! God is
THAT
good.
HE LOVES US!
We are called. We have purpose. Don't ever let anyone tell you that you don't. You exist for a reason. Seek His will for your life.
Know that if you are on the right path, everything will line up, and you will have peace. Don't
make
it happen. Let go and let God. God will not take a wrong situation and make it right. He will give you the courage and strength to get out of that situation and make something completely new. Don't stop praying. Don't stop seeking. God will lead you to the answer you have been waiting for!